Towing & Recovery
Pulling ahead in the recovery service business means getting in and out of tight spots where your competitors can't follow. International CV™ Series and the MV™ Series medium-duty flatbed tow truck models are designed with wide-track axles and sloped hoods for maximum maneuverability and visibility, even in the most challenging recovery situations. And whether you need to get a wide-angle view or zoom into the details, you can count on the Diamond Logic® advanced electronic system to help you stay on top of every task.
We covered some of the basics below, but if you'd like to learn more about configuring a tow truck body for recovery, all you need to do is reach out to our team at International Used Truck Centers!
What is a Flatbed Tow Truck?
The open trailer of a flatbed tow truck makes cargo loading much easier, especially if your cargo isn't boxed, on pallets, or uniform in size. A medium-duty tow truck body without walls is clearly what's required if you're recovering and loading vehicles, or if you're hauling various types of cargo that can't be harmed by heat, cold, or moisture.
Configuring Your Tow Truck Body for Vehicle Recovery
What type of tow truck body do you need for a recovery vehicle? A flatbed tow truck is a good choice for long-distance towing, especially if the recovered vehicle is damaged. This type of tow truck body has a slanted platform that can be lowered to the ground, and the vehicle can either be driven onto the bed or moved there using a winch system. With all four wheels off the ground, the recovered vehicle is less likely to sustain any further damage than if it were towed with a wheel lift tow truck.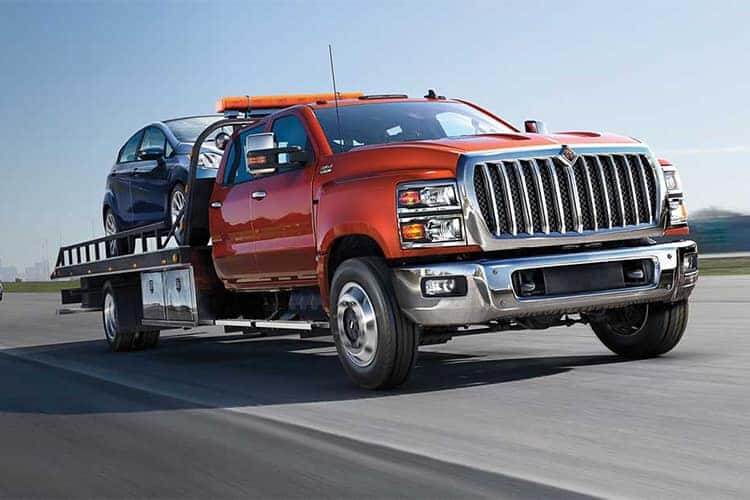 How Much Can a Flatbed Tow Truck Haul?
A flatbed tow truck can haul much more than a vehicle with an enclosed bed, making it a great choice for vehicle recovery. Weight capacities vary based on factors such as tow truck body and trailer type, engine, transfer case, and axis spacing. Which is right for your application? See below for an overview of International medium-duty and severe duty flatbed tow truck models and specs:
CV™ Series Medium Duty
International 6.6L engine
350 hp @ 2700 RPM and 700 lb-ft of torque
GVW of 16,000 to 23,500 lbs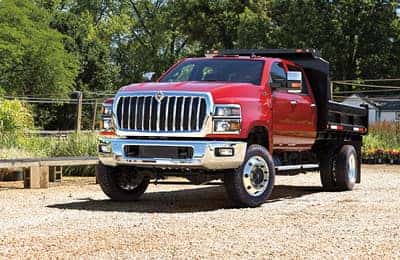 MV ™ Series Medium Duty
Cummins B6.7 and Cummins L9 engine options
Up to 360 max hp and 1,150 lb-ft of torque
GVWR of 21,500 to 54,600 lbs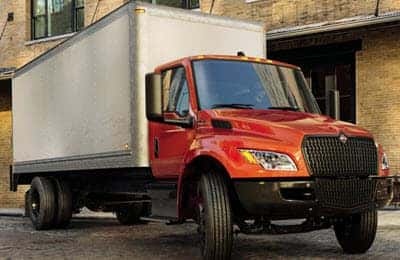 HX™ Series Severe Duty
International A26 and Cummins X15b engine options
A26 - Up to 515 hp and 1,850 lb-ft of torque
X15 - Up to 605 hp and 2,050 lb-ft of torque
GVW of ••52,000 to 92,000 lbs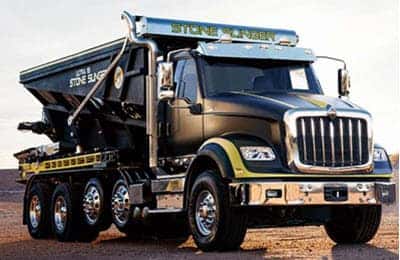 HV™ Series Severe Duty
International A26, Cummins B6.7, and Cummins L9 engine options
Up to 515 max hp and 1,850 lb-ft of torque
GVW of 51,000 to 73,000 lbs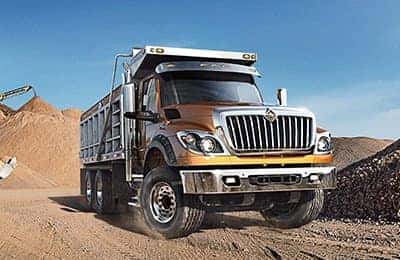 Find the Flatbed Tow Truck That's Right for Your Application
Our team is committed to helping you find a flatbed tow truck that will help your business grow. Stop by the International Used Truck Centers location nearest you today, or fill out our contact form for more information!