UTC of Charlotte
Charlotte, NC
Address:
3325 Rotary Drive Charlotte, NC 28269
Are you on the search for
used semi trucks in Charlotte
? Then it's time to visit International Used Truck Centers and find your perfect match! This location offers an extensive collection of high-quality vehicles, including everything from used to certified pre-owned models in the heart of Charlotte. Want to know more about our International trucks? Read on!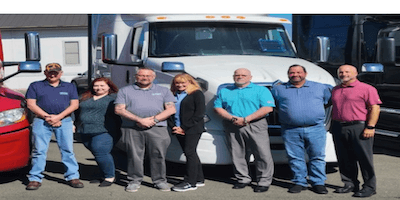 Welcome to the Charlotte Used Truck Center
The International Used Truck Organization offers you the industry's finest selection of pre-owned trucks in the USA. All our semi trucks for sale in NC are PM Serviced and DOT Inspected so you are ready to roll. Among our inventory of used trucks for sale in Charlotte, NC, you'll find long haul sleepers, day-cab tractors, non-CDL dump trucks, box trucks and many other products to serve your specific business needs. We buy and sell all makes and models of used trucks, from single units to matched fleet packages. Learn more about our Charlotte Used Truck Center today!
Multiple Warranty Plans for Peace of Mind
International Used Truck Centers is proud to offer several used warranty plans for peace of mind wherever your truck journeys take you. Depending on the type of used trucks in sale in Charlotte, NC, you'll be backed by one of the following great coverage options:
Worry-Free Bundle Coverage. Comes with the purchase of any qualifying International LT® or RH™ Series pre-owned truck. Covers over 800 components, including transmission, axles, frames, bumpers, etc. No deductible, no claims, 100% coverage on parts and labor.
Certified Pre-Owned Warranty. Consists of a comprehensive package, including a 90-Day Driver's Assurance Warranty, a 1-Year Engine & Aftertreatment Warranty, Extended Vehicle Coverage, Towing Coverage, a complimentary Truck History Report, and a full year of Uptime Advocate support.
26 1-Year Warranty. Comes with the purchase of a qualifying International® LT® or RH™ Series pre-owned truck and includes 1-Year Factory-Backed Engine & Aftertreatment Warranty covering 92 essential engine components and 16 significant aftertreatment components.
Shop Our Used Trucks for Sale in Charlotte, NC!
In addition to our great selection of semi trucks for sale in NC, we have multiple nationwide locations, each offering a wide range of Class 5 to 8 trucks from various manufacturers. Whether you need a cost-effective option or a low-mileage, late-model unit with advanced technology, you're bound to find a great fit among our massive inventory of used trucks for sale in Charlotte, NC. Come visit our dealer today, or give us a call at 888-381-7438 to explore and compare our flexible financing and warranty options to find the one that best suits your needs.